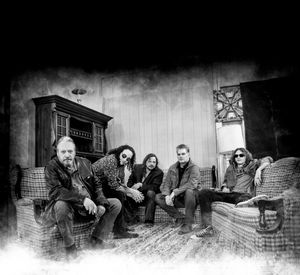 About
Mix the gritty, soulful vocals of Gene Potts with the guitar fire of Sal Marra, the pulsing bass of Anthony Flora, the war-hammer drums of Dave Halpern and the one man festival that is Eric Safka on keys, and you get Colossal Street Jam. 
Colossal Street Jam is a 5 piece band based out of Red Bank, NJ that plays a 70's style brand of infectious and melodic rock and roll. 
Colossal Street Jam's November 2016 release "Living Free' garnered critical acclaim and has been featured in many music magazines worldwide and the single "Songbird" continues to get extensive radio play both locally and globally. 
In January of 2018, "Living Free" won the Australian Indie Album of the Year award for internet radio and remained on the Indie charts in Australia for 6 months. 
CSJ's "Just Take Hold" was released in November of 2018 and their single "Just Take Hold" along with their cover of Sugar Loaf's "Green Eyed Lady" received airplay on both Indie and College radio stations worldwide. 
In May and December of 2019, Colossal Street Jam had two successful European tours, playing shows in The Netherlands, Belgium and Germany. Unfortunately due to the pandemic the bands 2020 and 2022 European tour plans of France, Belgium, Luxemburg, Germany and Belgium were cancelled. 
In January of 2021 CSJ released the new single "No Way to Live' which was getting great radio play both locally and overseas. Due to the global pandemic and health issues the full 11 song release was delayed until 2023.

On February 10th, 2023 the new CSJ will be released and a full publicity and promotion campaign will follow, along with shows both in the U.S and Europe.
CSJ thrives in the popular Asbury Park, NJ music scene and has a strong dedicated fan base, both locally and in Europe. 
CSJ has shared the stage with many great artists throughout their career including: Mark Farner of Grand Funk Railroad, Robbie Krieger of The Doors,  The Black Crowes, Kings X, Stone Temple Pilots, Rival Sons, Blackberry Smoke, The Drive-by Truckers, The Hold Steady, Gov't Mule, Johnny Winter, Sebastian Bach, Bruce Dickinson, Screamin Cheetah Wheelies, Ritchie Blackmore, Steve Morse, Zebra, Deep Purple, Leslie West, Clarence Clemons and many more. 
Colossal Street Jam is: 
Gene Potts – Vocals 
Sal Marra – Guitar, Vocals 
Tony Flora – Bass 
Dave Halpern – Drums & All Percussion 
Eric Safka – Hammond B3, Piano, Fender Rhodes 
Latest Release
No Way To Live
Colossal Street Jam
New Single from the forthcoming CSJ release
Read more…